Experience in choosing backdrops when taking photos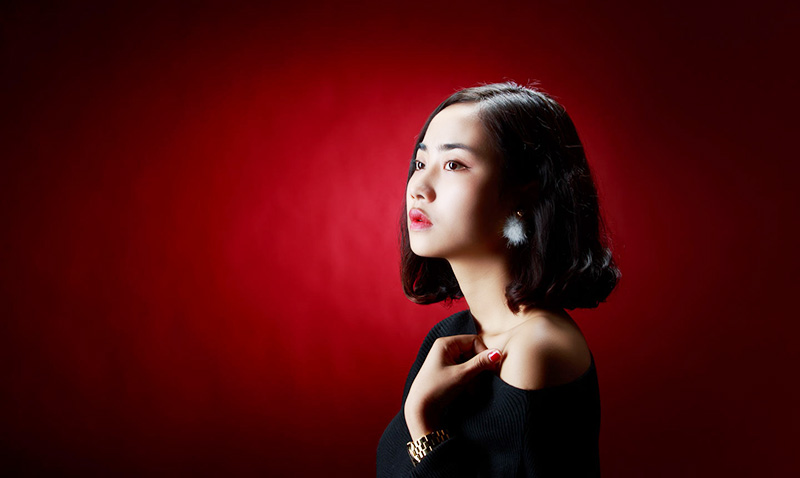 In addition to outdoor photography, shooting at the studio is quite popular when photographing portraits, artwork or lookbook today. When shooting indoors, the most important thing is choosing the background, the color scheme between the subject and the background. This is one of the important factors in being able to create a beautiful and eye-catching photo.
So how to choose the background? What color background will suit each individual context? Try to learn about the top 10 most popular background colors today, through the SaDesign sharing below.
Elegant black background
Black background is one of the most popular background colors when shooting portraits or art photos. Black will help the main subject in the image become elegant and nostalgic.
An artistic nude portrait
For customers who require portrait photography alone, this is the ideal background color. The color of the rear lights helps the protagonist to achieve mystery as well as a memorable, mood-filled photo.
Exquisite gray background
Gray is quite neutral and delicate. The gray background effect will help the photo increase sophistication, emphasizing the protagonist without losing the focus of the viewer. This is the ideal background model for product photography, especially products such as clothing, jewelry. The gentle grey behind will help the viewers to focus and be attracted to the captured subject.
Outstanding purple background
Many photographers often do not choose a purple background because the colors are quite prominent and a bit difficult to capture. However, the children's photo zone is the ideal background color. In addition, when taking photos to promote products or other message to express a strong sense of imagination into the image.
Purple will be able to work when the photographer knows how to arrange and depend on the concept, products. Although the purple color is quite prominent and creates sad feeling, so when taking portraits, you should avoid this background color.
Eye-catching red background
Red is a symbol of movement and dynamism. Red also shows passion and is often associated with love.
The photo with a red background helps to attract the viewer's sight
This is a color that can be used to capture food promotional photos, for example fried chicken. Also, a girl in a red background will attract many people towards her. This color can be used for portrait or artwork photos, however, it is necessary to mix colors and concept carefully.
Neutral brown background
Usually, a brown background is often undesirable and ignored. However, in some portrait photography cases, this can be the ideal background color. The neutral and serene brown will be great for nude, or nude portraits. Subjects will stand out in the background color and create a comfortable, unscrupulous feeling for the viewer. It can be a background color for promotional photos of familiar and comfortable messages, which might be a good choice.
Pure white background
It can be said that white is the choice for the most popular backdrop today. Usually the photos have a white background. The white color creates the purest and most natural feeling. Especially, when taking pictures for babies, pets or family, it will be perfect with a white background.
Dynamic yellow background
Yellow is usually quite bright and full of positivity. It represents a happy and energetic portrait. However, when taking photos promoting products, yellow color can make people look uncomfortable when seeing for a long period of time.
A portrait photo with outstanding outfits, or promoting products such as: bikini, sunglasses or lipstick ... The yellow backdrop really makes the products outstanding in the photo.
The dynamism and youthfulness of a photo with a yellow background
Intimate and natural green backdrop Green also has quite similar features like brown. Green backdrop creates more comfort and intimacy, more natural when looking at. You can use this background to take portraits or promote products. Green will help viewers feel comfortable when looking at the person or product in the photo. Attractive pink backdrop For pictures featuring women, love, or women's products, there is no background color better than pink. Pink is cheerful, and easily attracts the sight of the viewer. This is a good suggestion when promoting products to help the viewer pay more attention to the main audience. The color is subtle, and a bit brighter than a yellow background. Elegant Blue Background Blue is often quite popular and is loved when people take clothing promotion photos, especially for men. Blue color does not reduce the naturalness and helps the viewer to focus more on the photo. Blue background is suitable for portrait photography or product promotion for men
A portrait for men, or products for men such as sunglasses, clothes, shoes, watches…. All will be well conveyed through a blue background, showing potential masculinity and strength.
In fact, the choice of background photography is often the problem that many people are confused. Many people often think that taking photo in a studio is simply standing in front of background and taking good pictures. This thing is completely wrong. A beautiful photo is not only by the photographer's photographic technique, but also by the background and color scheme in the photo.
A outstanding background, the same concept and proper coordination will help get a portrait photo or promote a beautiful product. Hopefully, with the above sharing of SaDesign will help customers have more knowledge about how to choose a backdrop when taking photos.
Wish you get the best photos.