If you are a professional photographer, surely you cannot know about Camera Raw which helps your photos become more vivid and attractive. For those who are new designer and are looking to learn about the application as well as how to use Camera Raw in Photoshop, please join SaDesign to refer to the information in the article below.
What is Camera Raw? The basic features of Camera Raw

Camera Raw (CR), this is a small application of professional image editing software Photoshop. It has many smart features that can help users to open and edit original images from digital cameras.

Each modern version will increasingly have new features and more expanded applications. Basically, it brings effect of image color correction as well as the details to reach maximum perfection.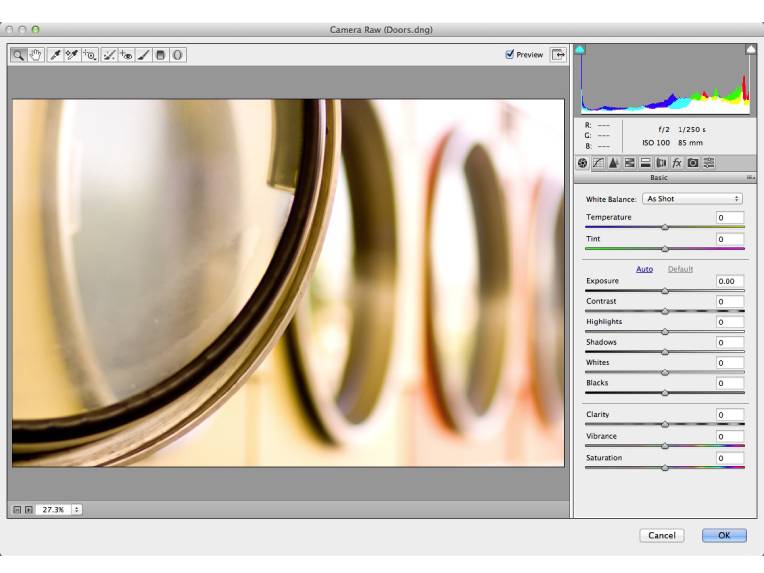 In Photoshop 7.0 version is the first Camera Raw 1.0. The next upgrade versions of Photoshop software will respectively add a new version of Camera Raw. In particular, a few features can be mentioned as follows:

+ Each different Photoshop version will have a limit on a certain Camera Raw: Usually, the last released Camera Raw is come out before the latest Camera Raw. Furthermore, Camera Raw is also available with a variety of Adobe graphics applications. Most typically, Adobe Lightroom can be in RAW format to coincide with the Camera Raw application.
+ Currently, new versions of Camera Raw are continuously provided to support the original file format on the camera. Some recent products under version 6.4 that you can mention such as Canon EOS Rebel T3 camera and Nikon D5100 camera.

Usually, older Camera Raws will not be able to format compatible images with newer cameras. That is why we recommend upgrading and using the latest version of Photoshop. If you still can't use it after the upgrade, try to resize the file size to include larger RAW files in the software.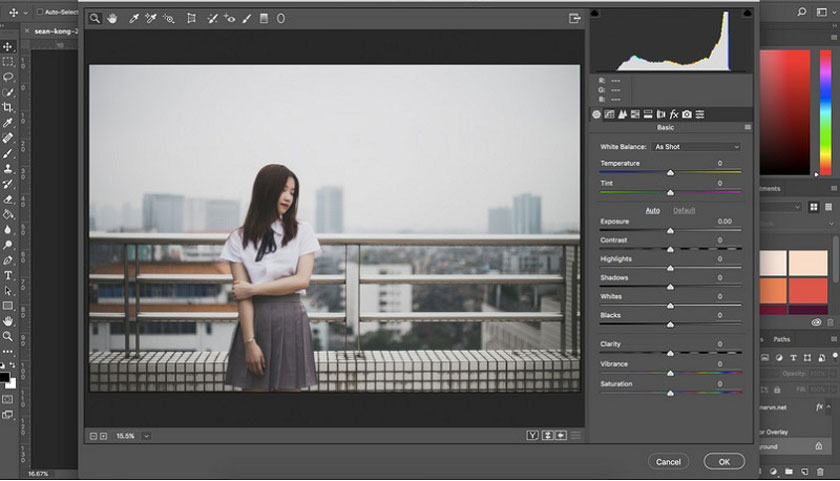 + The manufacturers always provide many different tools to serve the needs of converting the original format to intermediate on the camera. Thence, users can open and use Photoshop software (usually TIFF). For example, some of the most basic software such as Fortmat Factory, Image Converter, Convertio… ..

+ The most popular software used to edit images on mobile phones are VSCO, Analog, Picsart, … Likewise, there will often be other software on the computer like Camera Raw. It can assist users to perform tasks such as sharpening, brighting, contrasting … and many other tasks. In fact, Camera Raw is not much different from Lightroom, even with the same features.
However, when exporting, Camera Raw will produce very high quality and beautiful photos. This is the advantage but the limitation of this software. If you want to transfer to the internet, you need to convert files to formats such as JPG, JPEG, PNG….

In addition, just like Lightroom, with Camera Raw, you can use presets or preset color parameters to create sparkling, impressive photos.
How to use Camera Raw presets

To use Camera Raw, you first need to open it. Usually, when you format the file .raw, this software will open automatically. However, depending on the model, you must use the Camera Raw plugin corresponding for the best support.

Here's how to open Camera Raw and quickly download the xmp preset.

Step 1: Go to Photoshop, select Preferencess, click the Camera Raw software to use it
Step 2: Find JPEG and TIFF Handing, select JPEG, and then use the function "Automatically Open All Supported JPEGs". Or you can also customize each image to see whether Camera Raw is opened or not.

Step 3: Go to Filter, choose Camera Raw Filter, or use the key combination CTRL + Shift + A for Windows or Command + Shift + A for Mac.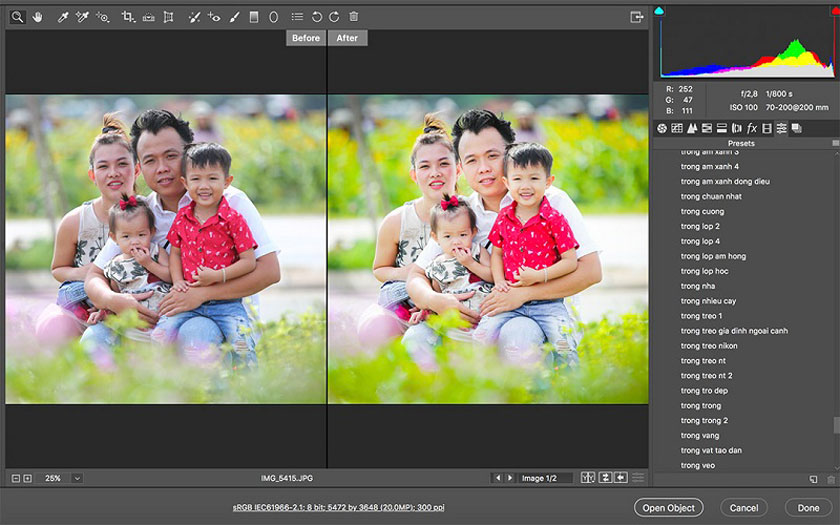 Step 4: Once you get into Camera Raw, you need to open the preset to edit the elements accordingly. Right-click on the 3-dash icon on the screen and select Load Setting. Next, look for the Preset and Load Preset folders.

After completing these 4 steps, you will definitely be able to open Camera Raw. In case the software fails, please uninstall it, install again or reset the computer.
Collection of 10 best color correction presets on Camera Raw

Not everyone who uses Camera Raw can create beautiful photos. SaDesign suggests you 10 of the best presets to easily blend and retouch photos for the most convenient editing process. You can refer to these templates and combine them with your own creativity to create the most compelling photos.

1. When taking photos in places with scenery of the old style like temples, or places like laterite, wood, etc., you should use classic and gentle color presets.

2. For photos with parameters such as color of classic style or photos with depressing scenes or reflection portraits, use the vintage color film preset.
3. People who love gentle, pure colors, the Korean pale color preset will be the best choice.

4. For photos taken in backlight, against sunlight, or in a grassy area, the preset that looks green and yellow will be very bright and beautiful.

5. If shooting portraits, the Japanese color tone will give the best effect. This color preset also has the same lightness as Korean color. But when portraits are made, there will be a slight yellow-orange color, which is very nice and eye-catching for portraits.

6. Baby teen photos, which tend to be pure, innocent and bright white and pink, the gentle pink white preset will highlight and harmonize with the best photo.
7. The blue cloud preset will be best for anyone who wants to take photos a clear sky with a burning cloud. This is an effective measure and enhances tone, creating a very beautiful photo.

8. The clear color preset is loved and used by many people. It is suitable for blue and sunny photos, creating impressive beauty in photos. In addition, when capturing fonts, you can also make good use of this preset.

9. Also a clear color scheme but it is better suitable for shots with natural green lawns. When using this preset, the effect on the image will be smooth, beautiful white.

10. When photographing a landscape of trees and sunlight, the natural color presets will give you shimmering beautiful lines, hard to take your eyes off.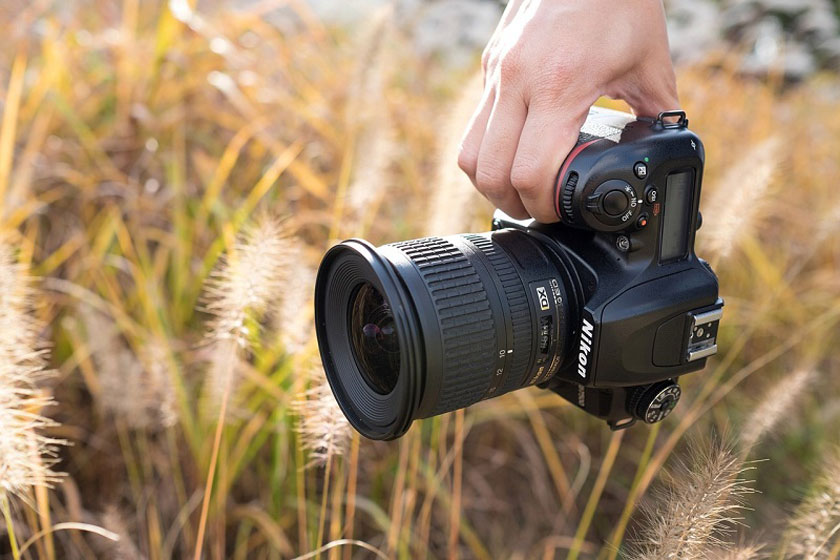 Through the above synthesis of SaDesign, you will surely have a better understanding of Camera Raw software as well as the Camera Raw preset application. Understanding color parameters will help you create the best quality pictures.